In April, 2017 I discovered the indispensable EOIR Benchbook had been removed from the Department of Justice of website.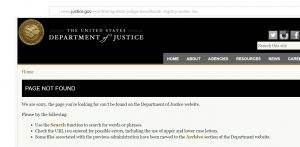 A benchbook is a book providing an overview of legal procedure for a judge. These books are used by judges while hearing cases as guides to assist in the disposition of a case. While benchbooks generally are not a source of substantive law, the EOIR Benchbook contained invaluable templates, motions, scripts, and cases for judges to cite to when entering orders.
Without these resources, both immigration attorneys and pro se respondents (immigrants who represent themselves without a lawyer) are at a great disadvantage.
I hastily retrieved as much of the benchbook as I could before it disappeared from the Internet entirely. Meanwhile, my Kansas colleague Matthew Hoppock began the arduous endeavor of getting the EOIR Benchbook back online. He succeeded… for a time.
The EOIR Benchbook was "archived" in an obscure location on the DOJ website. It was subsequently taken down again. After a Freedom of Information Act appeal, Attorney Matthew Hoppock was able to get the EOIR Benchbook back online. But, DOJ moved it to an obscure location on the website, did not update its DOJ website search engine to lead searches for the "EOIR Benchbook" to the right page, and the archived benchbook was only downloadable as a troublesome zip file.
Matthew Hoppock has recreated the EOIR Benchbook from www.archive.org here.
I have mirrored Matthew Hoppock's reconstruction of the archived EOIR Benchbook below.
In the event DOJ decides to disappear the Wayback Machine archive. I have also rescued additional content from digital obliteration which will also be posted shortly. Please be patient as we are constantly retrieving, reformatting and compiling these materials.
Many new lawyers believe the EOIR Practice Manual is the EOIR Benchbook. It is NOT. Every immigration lawyer practicing removal defense should become intimately familiar with every page in the EOIR Benchbook.
If you have written any updates to the EOIR Benchbook, please send them to me at susanpai@protonmail.com
Please share this link to all our colleagues and affected parties. Please save this page and check back for more archived data culled from the 2017 EOIR Benchbook.
TOOLS FOR THE IMMIGRATION JUDGE
INTRODUCTION
Using the Benchbook
TABLE OF CONTENTS
SCRIPTS
Initial Hearing
Master Calendar Hearing Checklist
Pleading Form
ADVISALS
Bond Questionnaire Worksheet
Bond Worksheet
Bond Worksheet Sample 2
Evidence Worksheet
IJ Worksheet in Expulsion Proceedings
IJ Worksheet in Removal Proceedings
Notice for Failure to Report
Notice of Rejection of Cancellation Application
Notice of Rights Advisals
ROP Worksheet Sample 1
ROP Worksheet Sample 2
Voluntary Departure Advisals
Introductory Guides
BOND
Evidence
Introduction to the Master Calendar
Memorandum on the Transition to the INA in the CNMI
Mental Health Issues
Motions
Televideo
Sample Orders
-Sample Abandonment for Failure to File Order
-Sample Bond Withdrawal Order
-Sample Fee Waiver Order
-Sample Termination for Reinstatement Order
TEMPLATES
Templates
How to Use Templates
Return to top of the page
VIRTUAL LAW LIBRARY
Aggravated Felony Outline
Circuit Credibility Outline
Index to Kurzban's Immigration Law Sourcebook, 12th Edition
UNHCR Guidelines: The Application of Article 1A(2) of the 1951 Convention and/or 1967 Protocol relating to the Status of Refugees to Victims of Trafficking and Persons at Risk of Being Trafficked
UNHCR Guidelines: Application of the Exclusion Clauses: Article 1F of the 1951 Convention relating to the Status of Refugees
UNHCR Guidelines: Child Asylum Claims under Articles 1(A)2 and 1(F) of the 1951 Convention and/or 1967 Protocol relating to the Status of Refugees
UNHCR Guidelines: Cessation of Refugee Status under Article 1C(5) and (6) of the 1951 Convention relating to the Status of Refugees (the "Ceased Circumstances" Clauses)
UNHCR Guidelines: Gender-Related Persecution within the context of Article 1A(2) of the 1951 Convention and/or its 1967 Protocol relating to the Status of Refugees
UNHCR Guidelines: "Internal Flight or Relocation Alternative" within the Context of Article 1A(2) of the 1951 Convention and/or 1967 Protocol relating to the Status of Refugees
UNHCR Guidelines: "Membership of a particular social group" within the context of Article 1A(2) of the 1951 Convention and/or its 1967 Protocol relating to the Status of Refugees
UNHCR Guidelines: Refugee Claims relating to Sexual Orientation and Gender Identity
UNHCR Guidelines: Refugee Claims relating to Victims of Organized Gangs
UNHCR Guidelines: Religion-Based Refugee Claims under Article 1A(2) of the 1951 Convention and/or the 1967 Protocol relating to the Status of Refugees
"Fundamentals" Outline
"Fundamentals" Outline
2d Circuit
AILA Second Circuit Digest
Second Circuit Website
3d Circuit
3rd Circuit Court of Appeals Decisions
9th Circuit
Criminal Law Outline
Ninth Circuit Asylum Handbook by Country
Ninth Circuit Immigration Outline
San Francisco JLC Ninth Circuit Outline
Circuit Resources
First Circuit Opinions
Second Circuit Opinions
Third Circuit Opinions
Fourth Circuit Opinions
Fifth Circuit Opinions
Sixth Circuit Opinions
Seventh Circuit Opinions
Eighth Circuit Opinions
Ninth Circuit Opinions
Tenth Circuit Opinions
Eleventh Circuit Opinions
Return to top of the page
ALERTS
Alert – Mental Health Issues
Alert – Transition to the INA in the CNMI
Alert – New Voluntary Departure Regulation
Alert – Withholding of Removal
Alert – Dada Decision
Alert – Version of Fundamentals of Immigration Law (Nov. 2011)
Creation of a Benchbook Advisory
"As a part of the continuing efforts to make the Immigration Judge Benchbook more functional and user friendly, a Benchbook Advisory will be posted to the Benchbook to keep you apprised of changes that impact our work. These advisories will be written by sitting Immigration Judges as well as by attorneys within EOIR and contain analysis of a particular case or topic.: