DREAMERS
Urgent DACA Update re January 9, 2018 Federal Court Order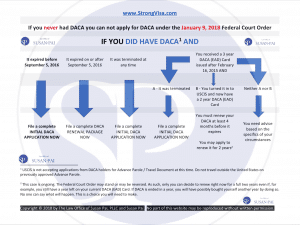 Articles and information about unlawfully present aliens popularly known as DREAMers.

March 23, 2018 DACA Applications & Renewals Post March 5, 2018 Free On Demand CLE by Podcast Part 1/2 Part 2/2 SYLLABUS The current state of Deferred Action for Childhood Removals Three categories of potential DACA Applicants: Client had DACA […]
Facilitating Parental Interests in Civil Immigration Enforcement Activities: http://www.ice.gov/doclib/detention-reform/pdf/parental_interest_directive_signed.pdf
GED High School Completion Home Study
Crane vs. Napolitano is moving forward. However, it appears the decision is erroneous. Therefore, we are confident there will be a stay and appeal. http://www.lexisnexis.com/community/immigration-law/blogs/outside/archive/2013/01/26/ice-anti-daca-lawsuit-moves-forward-crane-v-napolitano.aspx
Am I eligible for a Social Security number? How do I apply for a Social Security number?

DACA info request can be used for deporation
If DHS has granted deferred action and a work permit has been applied for or approved, these individuals are eligible for issuance. Other documents required would be a valid government-issued document (unless the customer has been issued with the Department […]
No, but you may need the assistance of an experienced immigration attorney in order to make an informed decision about whether and how to apply for DREAM Deferred Action. An experienced immigration attorney can help you devise a plan of action in the event Deferred Action ends.

Hear directly from Florida Immigration Lawyer Susan Pai about Deferred Action for DREAMers
Summary of important points for the DHS Deferred Action announcement.