DREAMERS
Urgent DACA Update re January 9, 2018 Federal Court Order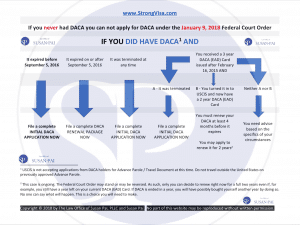 Articles and information about unlawfully present aliens popularly known as DREAMers.
U.S. Citizenship and Immigration Services (USCIS) released important info about the Deferred Action for Childhood Arrivals (DACA) process, which will temporarily allow some eligible youth to go to school and work without fear of deportation.
DHS Outlines Deferred Action for Childhood Arrivals Process USCIS to begin accepting requests for consideration of deferred action on August 15, 2012 released Aug. 3, 2012 WASHINGTON—The Department of Homeland Security today provided additional information on the deferred action for […]
Click here for more information on getting a GED. Enrollment in GED classes satisfies the education requirements to qualify for deferred action offered by the DREAM Act.
WARNING WARNING WARNING THE REALITY OF OBAMA'S DEFERRED ACTION FOR DREAMers This is NOT amnesty. Deferred Action means you are deportable or that the government can place you in deportation proceedings but the government is postponing action against you for […]
Latest information on the DREAM Update as of June 18, 2012 (from National Stakeholder Conference Call with USCIS, ICE, and CBP)
On June 15, 2012, President Obama announced that by his executive authority as President, he has ordered the Department of Homeland Security to defer enforcement action against unlawfully present aliens popularly known as DREAMers. Read on for important information.