Susan Pai testimonial 05-2012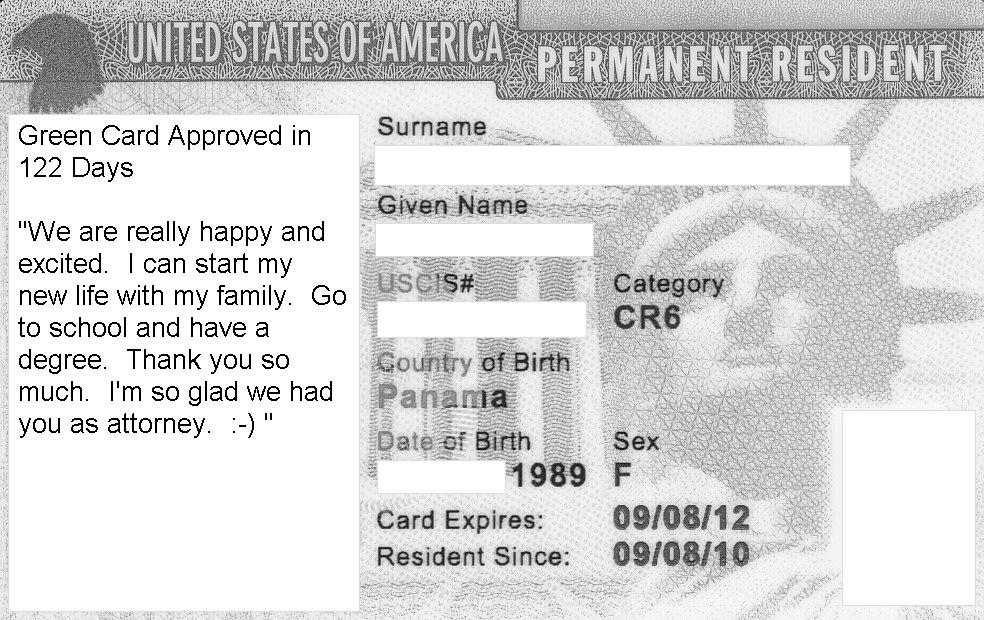 Sent August 26, 2010 Dear Susan,My apologies for not emailing you sooner but I have been in utter shock!Thank you soooooo much for all your hard work and meticulous efforts you have put in to our case. I understand from P. that this has been the most complex [L-1A] case that you have had to deal with…. I can't tell you how grateful we both are and because of you our dreams will become a reality. If you are ever thinking of visiting Boca Grande beach area, you are always welcome at our home. Warmest regards to you and your family, M. & P. U.K.L-1A New Office Visa Approved on Third Business Day After Submission of Application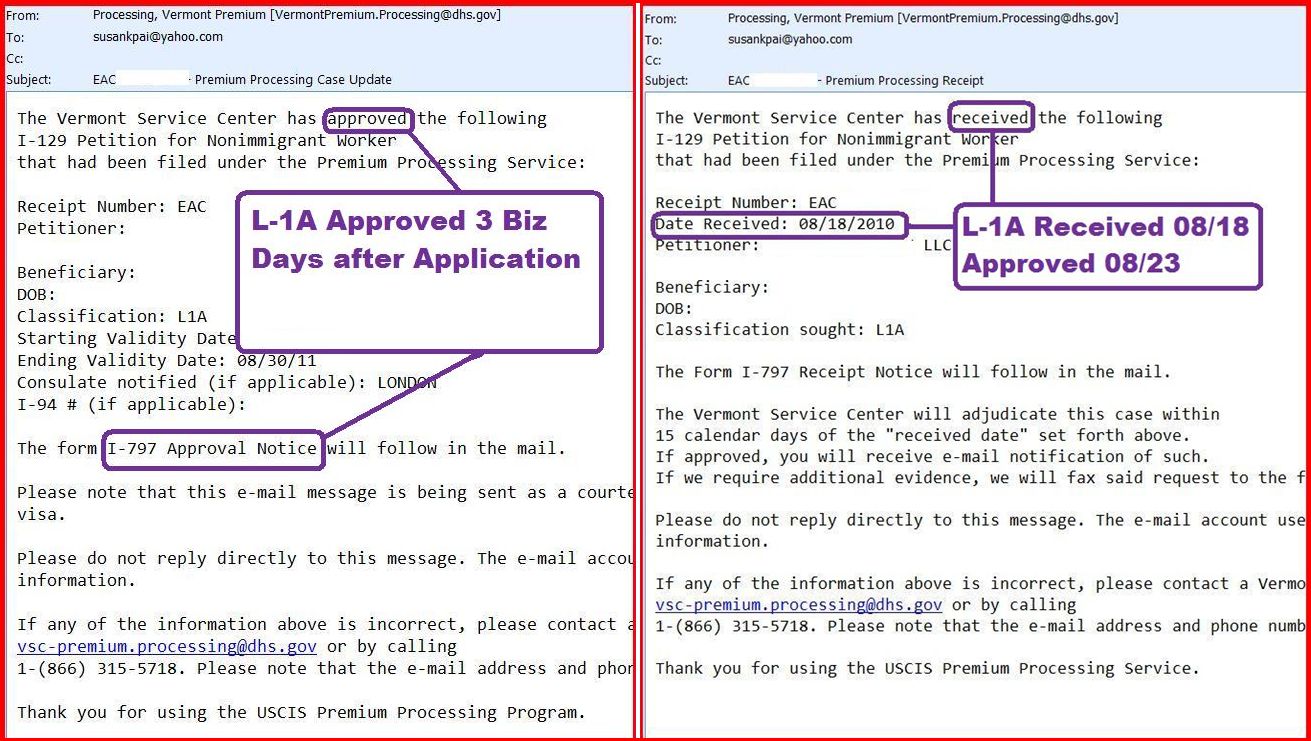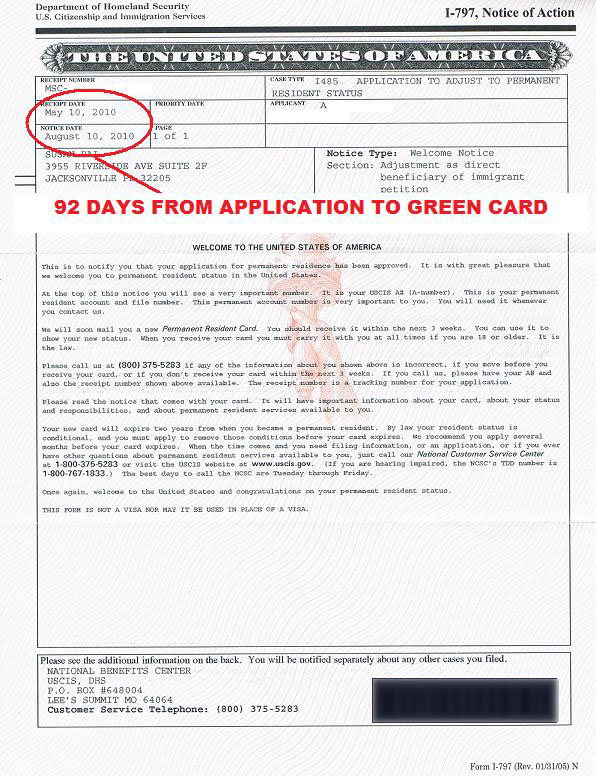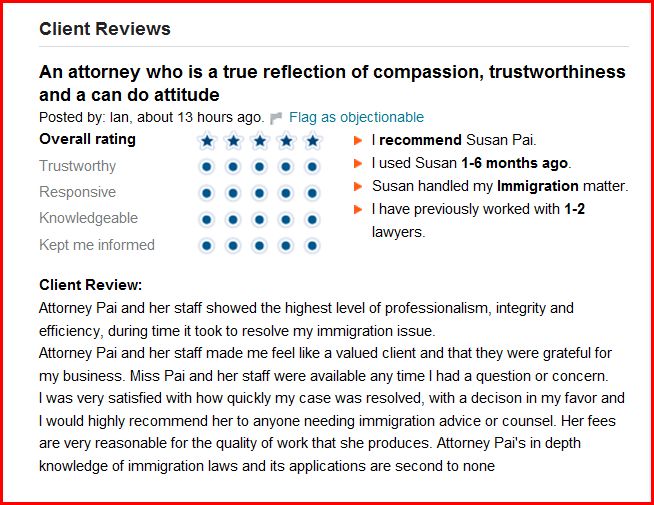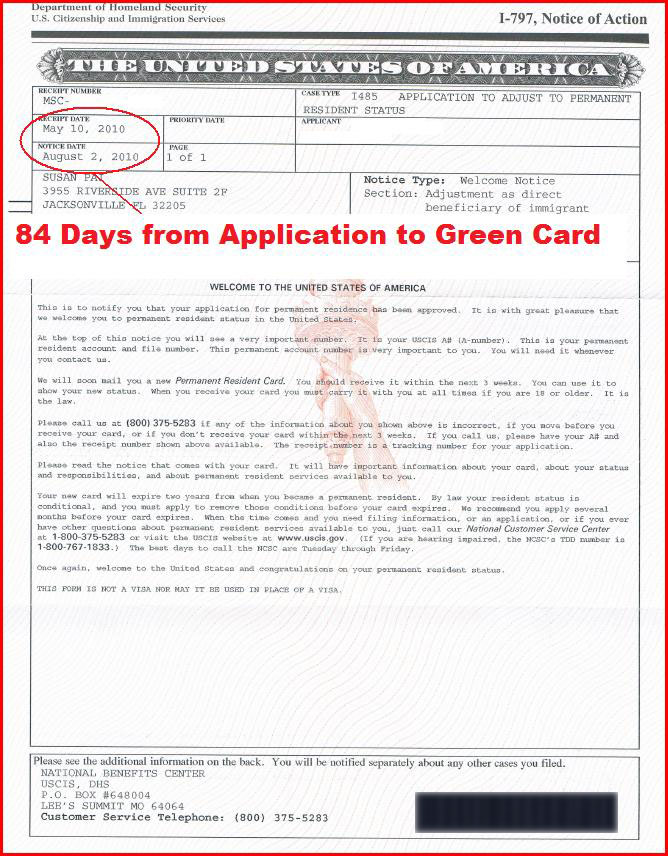 July 30, 2010 Hi Susan, I wanted to let you know I got my EAD card by mail today. Thank you for everything that you did for us so things turn out very well and fast. Sincerely, Y.S.K.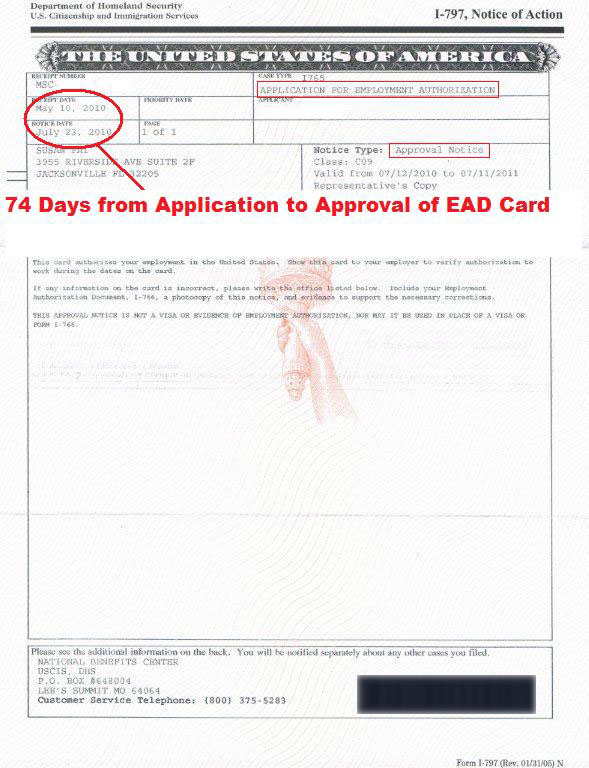 July 30, 2010 … Because to the current moment of… this K1 journey I found your knowledge, ethics and professionalism make you a great lawyer. NL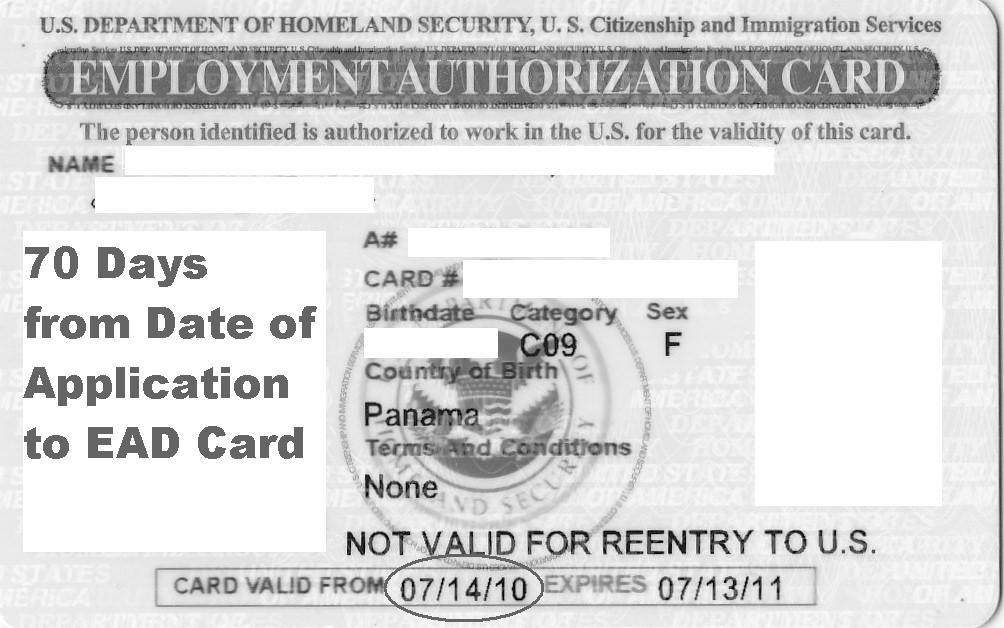 June 21, 2010 Hello Susan, Nancy and Tiffany, We would like to Thank you all for a suberb job you have all done for C. and I to recieve his green card…  We both can now relax and go on with a wonderful life together… I will certainly refer you Susan to anyone that I hear or may be asked about immigrating to the US.  I appreciate your dedicated diligence in obtaining all information for C.'s immigration… We wish you all a fabulous summer and months to come… Thank you everyone again and we will talk to you soon! Brightest Moment's Always, E. and C.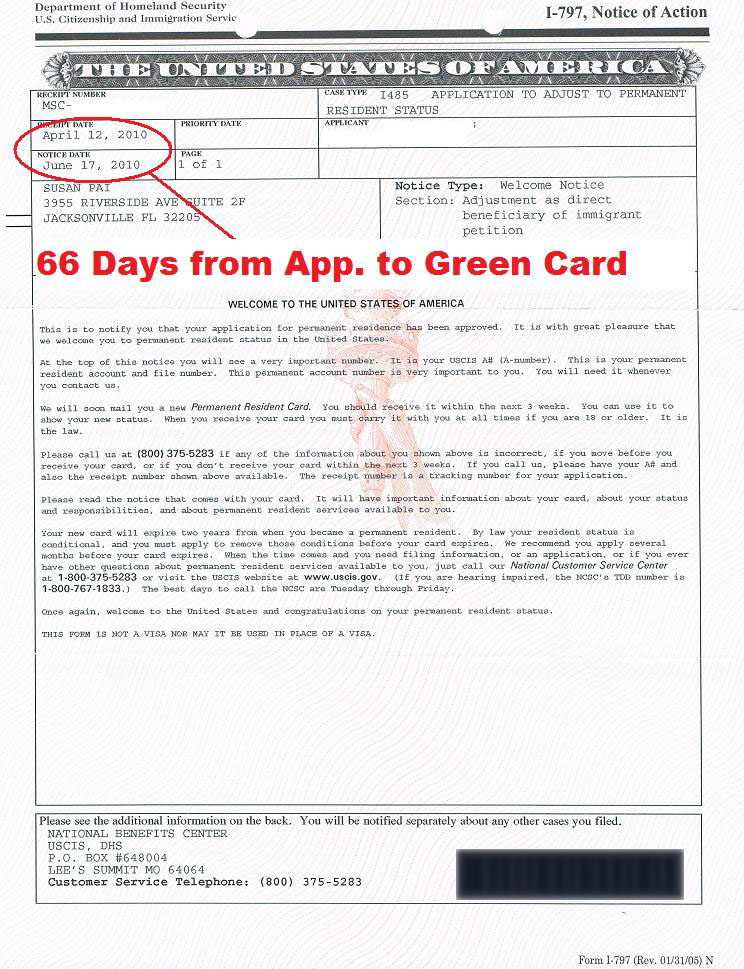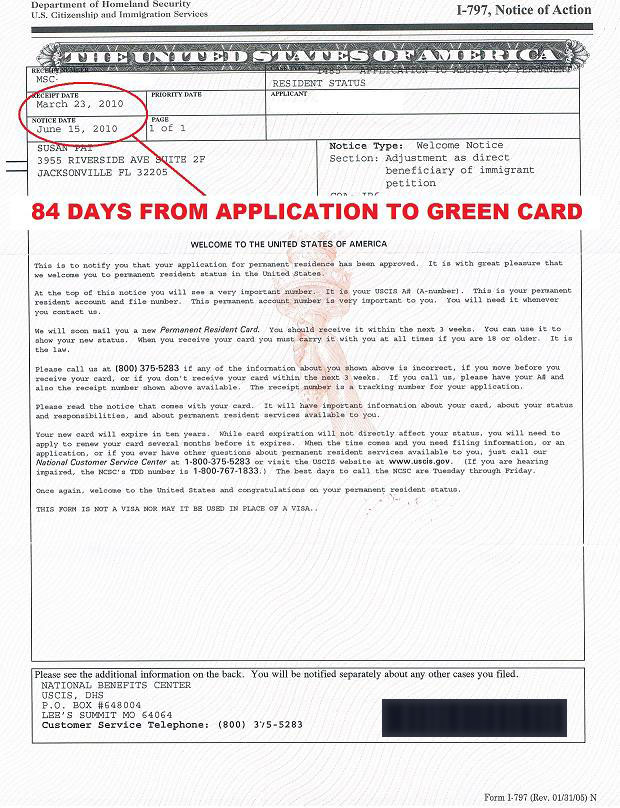 June 20, 2010 Hello Susan K. has been getting ready for her Ceremony…. We are so happy with all you have done on our behalf, and know we could not have done it without you. We will try to get pictures to you it will be a big important day in her life and our future. Thanks again for everything Roger & K.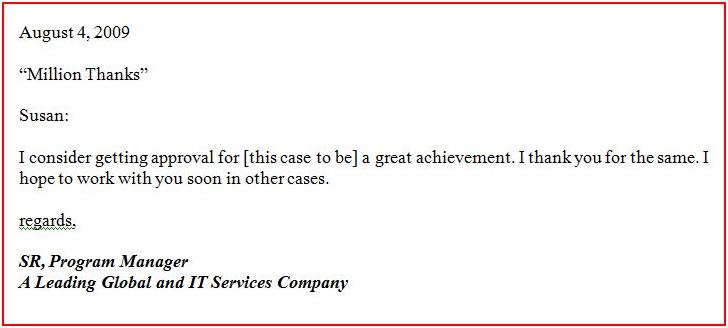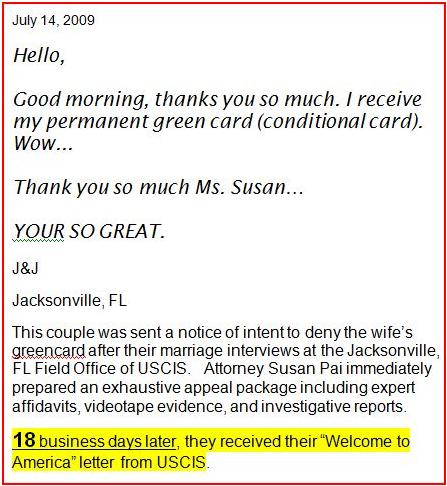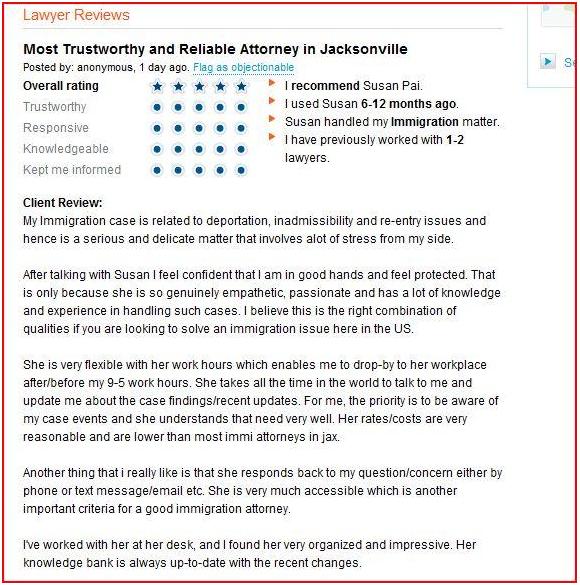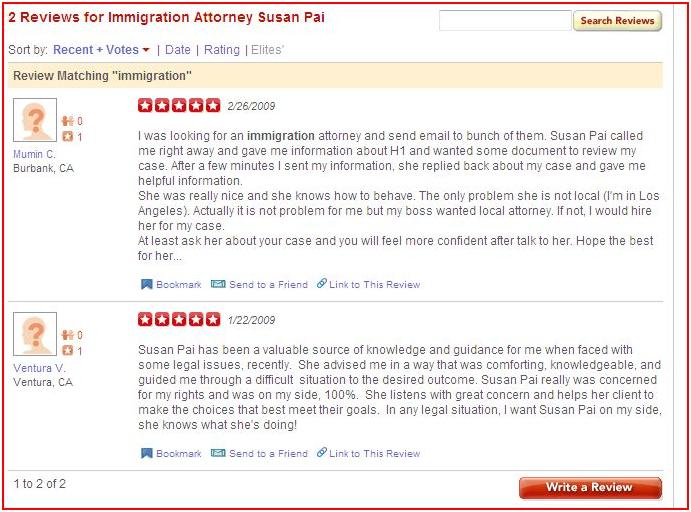 Excellent!? –  – Apr 3, 2009 Susan Pai is professional, precise and will do everything in her power to help you with your case. When I received an RFE I was naturally nervous. So I started shopping around for the services of an immigration attorney, but was greatly disappointed by the dozen or so I contacted. Some were uncaring and would ask for astronomical fees before even listening to my requirements. I had almost given up, but then I tried Susan Pai, and she was a breath of fresh air! She treated me as a unique individual, with a personal case. Not only did she get my RFE approved, she was able to reassure me in a stressful situation. I left her office very confident in her skills and I would highly recommend her for any of your immigration needs! -MD, Jacksonville FL
---
THANK YOU SOOOOO MUCH!!! That is sooo good! THANK YOU, THANK YOU, THANK YOU! I'm soo happy! A & G, Panama City, FL September 16, 2009 This client's EAD card arrived less than one week after his Biometrics were completed
---
June 23, 2009 Susan you have helped us, and made us feel more comfortable with this situation because we know we have you backing us. I will definetly recommend you. Thank you again, we have complete faith and trust in you. Thank you Susan you are a wonderful person. -Diana D., Jacksonville FL Hi Susan, Thanks a lot for all your time and help. I will certainly recommend you to all my acquaintances. B.
---
Thank you again for all your help on my very complex case! Getting my E3 visa would not have been possible without your expertise, guidance and ability to just make things work. My situation was not a straight forward one so I thank you. I wish you all the best in the future and will definitely be recommending you to anyone who needs a Lawyer. Thank you again, Sarah Re:  EAD Denial Hi Susan You have been of great help in resolving my issue within 24 hours with the USCIS.  It released a lot of stress for me.  My EAD was denied due to a service error by the USCIS. The process to address is was not mentioned on their website on in their denial mail. In these issues, it is highly important to go through the proper process and it helps to have an attorney direct me in this regardI have been a client for other attorneys and I have not seen anyone who spent so much time with their clients till they are thoroughly satisfied with the answers.
Sridhar
[The Law Office of Susan Pai assisted this individual on a denial of an EAD application not originally made by the Law Office of Susan Pai.  The issue involved an error on the part of USCIS and was resolved within 24 hours of contacting us.]
Re:  Cap-Subject H-1B Concurrent to Cap-Exempt H-1B
Thank you Susan for your insight a couple months ago on the issue of concurrent cap-subject H-1B applications for those holding cap-exempt H-1B visas.  As recently published on the AILA.org site, your interpretation is consistent with the recent statement of the USCIS.  Your advice was premonitory and accurate.  Thank you for always being available to answer my questions and giving good advice.
MS, Higher Education (Public University), Cleveland, Ohio
Re:  Cap Exempt H-1B Change of Employer
"Dealing with Susan was a great pleasure. She is very responsive, extremely knowledgeable about immigration matters – knows the fine print much better than a number of lawyers – I know as I consulted many, some even in the very large firms who were not aware of some of the laws which exist and she was well versed with, works 24×7 and is very accommodating and very economical. She is always available for consultation and patiently responds to all your queries and doubts. Susan, Thanks for being such a great help".
AD Program Manager, Non-Profit Educational Foundation, California
Re:  O-1, O-3 and H-1B Approvals
Dear Susan,
Thank you for your assistance in securing my O-1, O-3 and H-1B visas.  I have worked with other attorneys in the past and I only wish I had known you earlier.   Your dedication, knowledge, intellect and unwavering work ethic resulted in my H-1B being approved within two weeks and my O-1 being approved 48 hours after submission!!!  You were able to present the strongest possible cases for me by spending an incredible amount of time intricately understanding my credentials and background in a field that is difficult for even most scientists to grasp.
You are unlike most lawyers that I have worked with in that you are genuinely interested in the lives of your clients, you are honest to a fault (you don't sugarcoat in order to just sell your services), you have a keen intellect enabling you to present highly technical applications in a manner that is understandable and compelling to the government, and you have an exceptional work ethic and drive to execute on behalf of your clients.
Thank you for working on my cases, helping me, my family and my career, and for continuing to be a ready reference whenever I have questions.  I am proud to call you my attorney.
Dr. Y.G. Research Scientist at one of the world's foremost bionanotechnology and materials labs.
Re:  Recapture of Time on H-1B
Dear Susan,
Wow!  I can't thank you enough for your great work on my case.  If you had not been able to recapture those 318 days back on my H-1B, I would not have been able to pursue my green card.
Thank you again.
EH Terra Nigra, Inc.
Multinational Agricultural Company
Re:  Case Evaluation
Dear Susan,
Thank you so much for all your help so far, it has been nothing but prompt, informative and helpful.
SR, E-3 Applicant, Australia
Re:  H1B Concurrent Visa
Thank you so much for your information.  It will be a great relief to many of our current H1B's if we can have successful implementation of this concurrent H1B interpretation.
TP, Major Public University, California
Re: H1B1
Singaporean Professional
Dear Susan,
Thank you for your great help in processing my H1B application.  Also, it was good to know someone [who had] actually been to Singapore is processing my paperwork.  I have full confidence in you that you will do outstanding work!
Thank you and best regards, J.L.
Prospective Director of Operations for one of the largest medical devices corporations in the U.S.
Re: Confirmation of Delivery
Thanks very much for the update; I'm so pleased that the process is proceeding as smoothly as it is. Your team is excellent.
Vice-President/Regional Manager Commercial Real Estate Valuation Corporation, California
P-1 Extension Request Approved
We received notice today that [Beneficiary's] P1 visa has been extended for another 3 years.   We want to thank you very much for your help in getting this P1 extension submitted and approved.  [Beneficiary] is a valuable employee and we are much relieved that he will be able to continue working for us at [the Horse Ranch].
Tons of Gratitude
Owner, Peruvian Paso Horse Ranch, Washington
K. here from PTP. I can't adequately express how grateful I am for all the great work and effort you put into my H1 application that was approved. My family and I are truly grateful! Thank you once again. Fortuately, the visa application process in Accra was a breeze since there are provision to ease the process for H-1 applicants. I recieved it within 3 days of receiving the original notification forms. I apologize for not reaching your office before leaving Ghana. Everything happened so hurriedly and excitedly. I got in a couple of days ago and I am ready to begin anew. I do have a souvenir from Ghana for you and your office I will send in the mail soon. Hopefully you will like it. I will also reach you by phone before thanksgiving. Speak to you soon!
Warmest Regards,
K. Non-Profit Organization, Minnesota
[We successfully argued for H-1B cap exempt status for K's employer based on a university affiliation.  Thus, K. was able to obtain an H-1B visa even after all the H-1B numbers had been totally exhausted.]
October 28, 2006
As usual, [you are] completely on top of things.
President & CEO Engineering Corporation, California October 2, 2006
Hey Susan – Thanks Again.  Great Job.  🙂
VM, Beneficiary National Communication Infrastructure Corporation California, Ohio, Philadelphia
[Sent by the Beneficiary after receiving his original approval]
July 21, 2006
Hi Susan – Many thanks for your expedient help on this. DH, Vice President National Communication Infrastructure Corporation California, Ohio, Philadelphia [This response was sent by the Petitioner in response to our facilitating the Beneficiary's ability to begin working for the new employer within days of having received the request to change employers.  This was an expedited work request.]