Update: January 30, 2017 at 2:47 am EST
Immigration Agents Ignore Federal Judge's Order, Blow Off 3 Members of Congress, and Make DHS Secretary John Kelly Look Like an Idiot
Sunday was a day of strength for the Trump administration at Washington Dulles International Airport. Customs and Border Protection (CBP)—the federal agency tasked with keeping people from entering the U.S. illegally—successfully deflected a federal judge's court order and stonewalled three members of congress, in a display of executive branch muscle.
———————-
Update: January 29, 2017 at 7 pm EST
Department of Homeland Security Secretary John Kelly declares the entry of Lawful Permanent Residents of the US is in National Interest & thus favorably dispositive.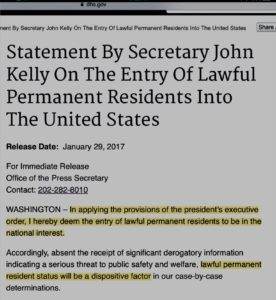 ———————-
Update: January 29, 2017 at 1:25 p.m. EST
In a very surprising announcement, the Department of Homeland Security just announced via email blast that it will continue to enforce Trump's Executive Orders despite a Federal Judge's Nationwide Injunction against implementation of certain portions of Trump's Muslim Ban.  DHS defiantly states:
The Department of Homeland Security will continue to enforce all of the president's Executive Orders in a manner that ensures the safety and security of the American people. The president's Executive Orders remain in place—prohibited travel will remain prohibited, and the U.S. government retains its right to revoke visas at any time if required for national security or public safety. The president's Executive Order affects a minor portion of international travelers, and is a first step towards reestablishing control over America's borders and national security.
———————-
January 28, 2017 @ 9:16 pm EST: Even before www.Whitehouse.gov was able to publish Trump's Muslim Banning Executive Order, Federal Judge Ann Donnelly of the US District Court in Brooklyn granted the ACLU's nationwide injunction.
When originally questioned on the legality of the Muslim Ban, a Trump surrogate referred to the WW2 internment of Japanese Americans as legal precedent despite the fact that in 1988 Congress passed the Civil Liberties Act.  A formal government apology was issued to 120,000 Japanese Americans and repatriations were distributed.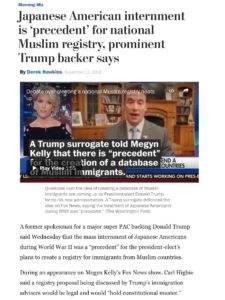 The Department of Homeland Security (DHS) confirmed the Muslim Ban applies to Lawful Permanent Residents of the U.S. and instructed all affected Green Card Holders who were traveling outside the U.S. when Trump's Executive Order was signed, to seek a Waiver from a U.S. Embassy in order to return to the United States.
Neither DHS nor the Administration could explain how any Waiver could practically or consistently be applied to "excuse" nationality or one's religion.  To ask a Consular Officer to make such determinations is fallacious and unfair to the Consular Officer. As the former Immigration Law Expert for the House Judiciary Committee, Nolan Rappaport, stated in this extraordinarily prescient article

Despite the stated legal precedent of Japanese internment and the availability of  the Chimeric Waiver for Green Card holders who inadvertently found themselves stranded abroad, Judge Donnelly halted implementation of  Trump's Executive Order signed January 27, 2017 against those who were in transit to or already at a U.S. port of entry (e.g., held by U.S. Customs and Border Protection upon landing in the U.S.) when the so called "Muslim Ban" went into effect. Because Trump declared it  effective upon signing, any possibility of meaningful notice to those affected was eviscerated.
The affected group includes  longterm Lawful Permanent Residents (Green Card Holders) of the U.S.,  student or employee visa holders, Refugees approved for admission under the U.S. Refugee Admission Program and others who have successfully undergone extensive vetting and subsequently granted the right to legally enter the United States.
The current vetting process for anyone who enters the U.S. is already quite extreme.  Immigration lawyers frequently have no recourse but to file Mandamus Actions in Federal Court to force U.S. Citizenship and Immigration Services to render any decision (positive or negative) on an immigration application that has malingered for years.
The vetting process presently includes but is not limited to:
Full background checks including on the ground interviews with neighbors, employers, coworkers, and relatives of the foreign national both in the U.S. and abroad
DNA testing to prove blood relationships
Global Watch Lists

Financial
Terrorist
Criminal

Exchange of information with other nations
Criminal history checks both in the U.S. and abroad including dismissed, expunged and juvenile records
Medical Examination (the foreign national must strip naked to be be examined and sometimes interrogated by the U.S. Embassy official)
Psychiatric Evaluation (which sometimes turns into an interrogation)
Numerous Interrogations conducted by

Consular Officers at the U.S. Embassy (whose decisions can not be appealed no matter how fallacious they may be)
Asylum Officers to assess Credible Fear (including of children who are 4 or 5 and don't understand questions asked of them such as "Do you fear persecution or torture if returned to your home country?")
U.S. Citizenship and Immigration Agents (some of whom are not properly trained in forensic interrogation or reporting and improperly elicit and report inaccurate or misleading information)
Customs and Border Protection Officers (most of whom do not have the proper training, time, and facilities to conduct proper forensic interrogations)
I have successfully challenged portions of the background check resulting in a denial of an immigrant's otherwise valid application.  In one case, a denial was issued based on the results of DNA test administered by an Embassy investigator, the results of which were in direct contradiction to our own independent DNA tests, conducted consistent with U.S. criminal evidentiary standards.  The U.S. Embassy DNA test results were poor copies of facsimile documents, not certified originals.  Further, the U.S. Lab that supposedly conducted the DNA test could not produce a record of having taken the DNA sample, conducting a DNA analysis, or providing a report to the U.S. Embassy.
In two other cases, the FBI Criminal Database (formerly known as NCIC and now known as NGI) had been manipulated to the detriment of a U.S. Citizen and a long time Lawful Permanent Resident.  In the first case a male registered sex offender's profile was merged with an a U.S. Citizen female's FBI record by changing his birth date to hers.  In the second case, three serious narcotics offenses appearing on my client's rap sheet for cocaine and barbiturates triggered placement of my client into deportation proceedings. Once my client was in proceedings, the false drug charges disappeared from his FBI record and never reappeared during the three years he was in proceedings.
There is one notable exception to the exclusion of an Applicant to the U.S. who fails to pass the extensive background checks.  If the foreign national is either individually targeted by the U.S. Office of Financial Asset Control (OFAC) as a person who is blocked from engaging in any financial transactions with the U.S. (OFAC sanctioned) or who is from a Country under OFAC sanction and is an EB-5 Investor Visa Applicant, he or she may apply for an "exemption."
Although an EB-5 Investor may be a Specially Designated National (Click here for the 1,371 pages of SDNs as of January 29, 2017) or from an OFAC sanctioned country, OFAC "frequently" grants exemptions to allow an otherwise prohibited person to buy U.S. Visas for himself and his entire family.


The People's Republic of China is not an OFAC sanctioned country, despite the fact that all 17 U.S. Intelligence Agencies consider China to be one of the top cyber security threats to the U.S.  This may be due to the fact that a full 86% of all EB-5 funding originates from China. Nevertheless, it is not uncommon for Chinese applicants to be required to apply for OFAC exemption.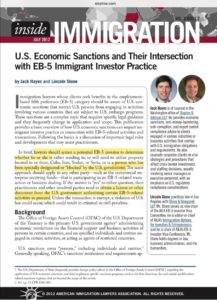 Jared Kushner's Trump Plaza Apartment Property raised $50 million from mostly Chinese investors using EB-5 funding.  Fortunately for Chinese Nationals and Americans like Jared Kushner, OFAC frequently grants exemptions, euphemistically called "licenses." In fact, unlike most immigration applications, an OFAC license can be applied for online with the simple click of a button.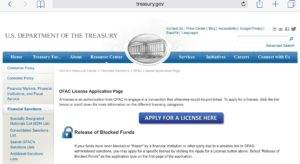 EB-5 foreign nationals who would not pass the extensive background checks required of all other applicants for immigration to the U.S. are thus able to buy admission to the U.S. for themselves and their entire family. And, it is a special visa indeed – one with a direct path to U.S. Citizenship.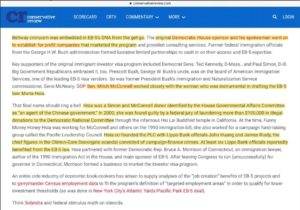 Trump's ill thought through Muslim Ban is deafeningly silent on foreigners who are individually prohibited from engaging in U.S. financial transactions or nationals of OFAC sanctioned countries, and instead inaptly relies upon Visa Waiver Program related legislation.
The Visa Waiver Program allows nationals of certain foreign countries (with whom Americans usually enjoy reciprocity with) to travel here for 90 days using just their passport, bypassing the Visitor Visa process.
In 2015, The Visa Waiver Program Improvement and Terrorist Travel Protection Act of 2015 (the Act), 8 U.S.C. 1187(12)(A)(ii) was slipped into Representative Charlie Dent's H.R. 2029 Consolidated Appropriations Act for 2016 at the final hour– which may explain why Representative Dent, who has a sizable Syrian constituency, came out publicly against Trump's Muslim Ban yesterday.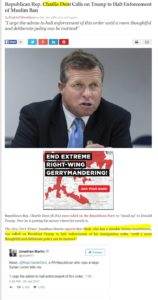 Here is Public Law 114-113, sole sponsor Representative Dent (R-PA).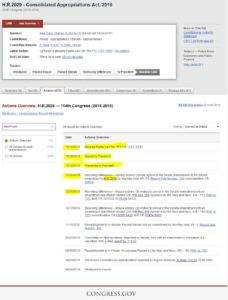 The Terrorist Travel Prevention and Visa Waiver Program Reform Act was slipped into the Appropriations Bill under "Division O – Other Matters" on the same day it was presented to the President for signature and became law.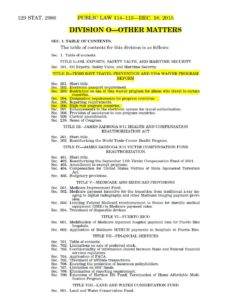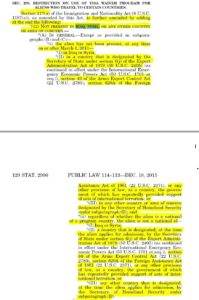 It was this midnight provision that became the vehicle by which President Trump defined the 7 countries named in his Executive Order.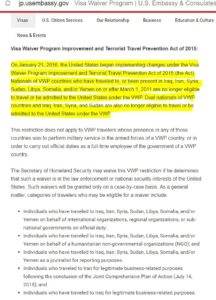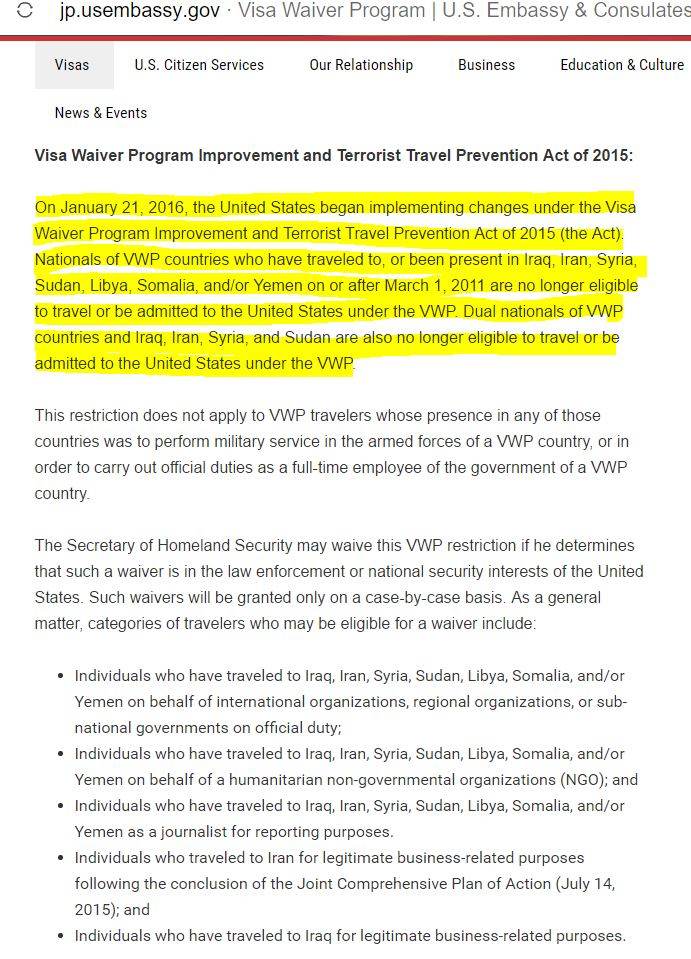 Trump uses the Terrorist Travel Prevention and Visa Waiver Program Reform Act as the reference point to define the 7 countries from which aliens (non U.S. Citizens) are banned.  However, the ill conceived Executive Order fails to address nationals of the 7 countries who were not born or have any ties whatsoever to the country of their imputed nationality.
This perplexing situation is the result of onerous Nationality Laws, such as those of Iran and Iraq, imputing nationality and religion upon an individual who has no ties to Iran or Iraq save for consanguinuity.
I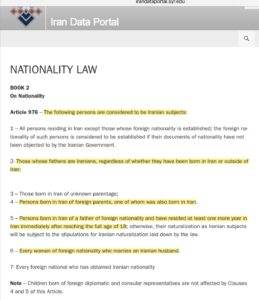 Affected individuals are forbidden from renouncing or affirmatively relinquishing their imputed citizenship.
For example, a banned individual is born and raised in the European Union.  He has no ties to any of the 7 banned countries other than the fact that his parents immigrated from Iraq before he was born. He is now a Born Again Christian. Nevertheless, under Trump's Executive Order, this Christian EU Citizen is considered to be both Muslim and Iraqi.  Trump's Executive Orders are so poorly thought through with what appears to be little or no logistical forethought that such a person could be repatriated to Iraq where he would undoubtedly suffer severe persecution or death.
If you don't think this can happen, think again.  The U.S. Department of Homeland Security – the behemoth federal agency that receives more funding than all other federal law enforcement agencies combined — has deported thousands of U.S. Citizens, including a Black teen who speaks no Spanish deported to Colombia, a mentally ill native born American who wasn't found by his family until years later living on the streets of Mexico, a U.S. Military Veteran who was awarded $400k in damages for his 6 month long unlawful detention in immigration prison (your tax dollars paid for that settlement, by the way), and U.S. Citizen Robert Dominguez who, despite having submitted copious documentation of his status as a native born American Citizen, is facing deportation to the Dominican Republic for the second time.  No less than 6 federal lawyers are trying to deport Robert.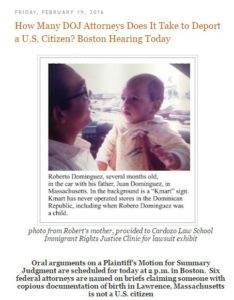 Judge Donnelly's strongly worded Order acknowledges grievous misconduct and serious violations of the U.S. Constitution by Trump, the Department of Homeland Security and Customs and Border Protection.
In a surprising twist, the Federal Judge further ordered U.S. Marshals intervene to ensure enforcement of the Court's Order, squarely placing the traditional Law Enforcement Partners– DHS and the U.S. Marshalls– strictly at odds with each other on this issue.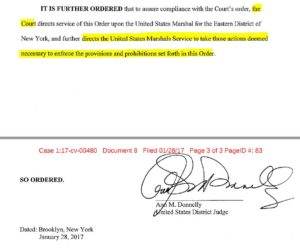 For Attorney Download:
Darweesh M4ClassCert or RepHabeasAxn